About Vascular Lesion Removal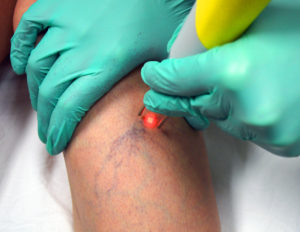 Vascular lesions, commonly referred to as spider veins and port wine stains, are cosmetic blemishes that appear on all parts of the body.
Vascular lesions are harmless blood vessels and groups of capillaries that are visible through the skin and are often purple and reddish in color.
Vascular lesions are common side effects of aging and are often removed for cosmetic and aesthetic purposes.
Lighten Up Laser Clinic of Northeast Houston provides safe and effective vascular lesion treatment for patients looking to improve the appearance of their skin.
During a treatment, our Astanza Trinity laser emits pulses of light energy directly onto the blemished area. The veins and capillaries selectively absorb the laser's energy, cutting off their blood flow and causing them to collapse. Overtime, the blood vessels will fade and disappear completely.
Vascular lesion laser treatments are most effective on smaller veins, typically less than 2 mm wide. Most patients need only 2 to 3 treatments before seeing desired results. Some patients see significant improvement after just one treatment.
Patients may experience slight bruising after treatment. As the bruise heals, your skin will reveal clear, blemish free skin. Patients are advised to exercise daily to prevent the appearance of additional lesions.