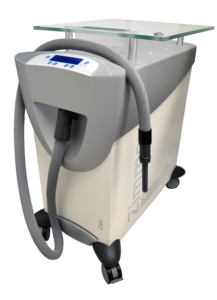 One of the first questions patients ask about laser tattoo removal is, "Does the laser hurt?" Although laser tattoo removal is a highly tolerable and very quick procedure, many patients still associate fear and discomfort with the laser.
Lighten Up Laser Clinic values patient comfort and satisfaction above all else.
That is why we have invested in the Zimmer Cryo cooling system, the number one skin numbing solution for tattoo removal.
The Zimmer Cryo uses freezing cold air to numb the treatment site and alleviate any discomfort caused by the laser. The air is emitted from a long hose at a chilling temperature of -30°C. Unlike ice packs and numbing creams that are either ineffective or wear off easily, the Zimmer Cryo can numb the skin before, during, and after treatment, delivering prolonged skin numbing when it's needed and wanted the most.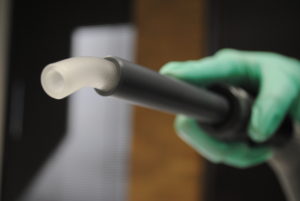 Patients are even allowed to hold the hose and direct the airflow during their treatment, giving you full control over your comfort. Come in for your free consultation today and ask about our Zimmer Cryo. One of our expert laser technicians will give you a demo of it's cooling effects to help you feel more confident going into your treatment.